Unobtainium! Vintage Mid 1970's Stan White Glass Happening Shot-Glass Speakers
$14,995.00 USD
Closed
Quantity

1
Condition

Not Specified
Postage

The seller does not ship to your location.


Get Additional Rates
Select Country

Address / Nearest Location

Local Collection / Pickup

Quantity
Seller Info
Pro-Data (0)

Registered

09/07/2020

Feedback

Score: 0 - Percentage: n/a
Sellers Listings
Sellers Store
The listing has not been sold.
Description
Unobtainium! Vintage Mid 70's Stan White Glass Happening Shot-Glass Speakers
Some of the RAREST! speakers you will ever come across! Fully Functional! Perfect Working Condition!
Stanley F. White - United States Patent
These speakers were purchase brand new in the Mid-1970's by my Father and are in Perfect Working Condition. They are 100% original except for the Black Velcro Pads that hold the Speaker Covers on, and the Speaker Covers themselves. The Shot-Glass Emblems are 100% Original. The Speaker Cabinets are in overall Good Condition, but have normal signs of wear for something that is almost 40 years old. They have been in storage for many, many years, but work perfectly and sound fantastic.
NOTE: These Speakers are rated at 75 Watts R.M.S (See Brochure Below) if you purchase these and connect them to a High Wattage Amplifier, there is a good chance you will blow them up. I will not be held responsible for any damage that occurs to these Speakers after they have been purchased. You have been warned! 
Model: SHOT-GLASS (PAIR)
Manufacturer: White Electronics
Type: Speaker - Audio
Year: 1977-1981 
ShotGlass™ was introduced to the audience at the Summer CES 1975. It was a breakthrough in HiFi in several aspects: It incorporated a new woofer / midrange system, the ultra-stiff GlassCone™ (pat.). The first modal breakup appeared at 1500 Hz. It was composed of four GlassCone™ systems in a very slim cabinet. It`s spatial reproduction and freedom of coloration was overwhelming. AUDIO, Germany, reviewed: "Suddenly all the instruments seemed to be lightened up brightly...The best amplifiers immediately demonstrated their capabilities."
In 2002, with the latest space-age materials on hand and magnets with much higher field strengths, the GlassCone is even more ahead of it`s time than in 1975. For instance, it is the only woofer/midrange system on the market with quasi-flat geometry covering a frequency band of seven octaves. That`s where 95% of the music plays. Thirty years of constant development of GlassCone technology made a dream possible: The latest design doesn`t even needs a crossover network. This way, the amplifier isn't connected directly to the system. Especially voices sound unbelievable realistic with the 2002 GlassCone.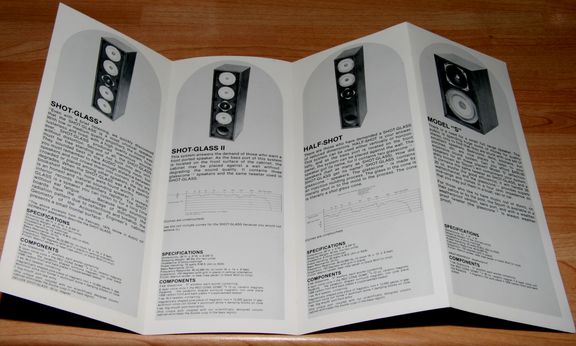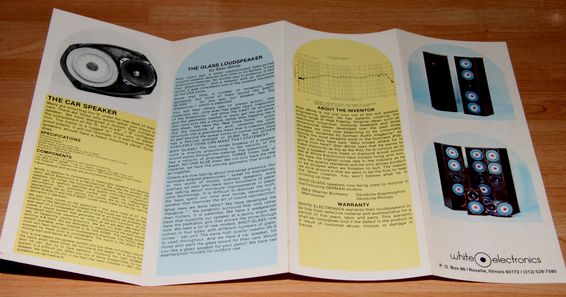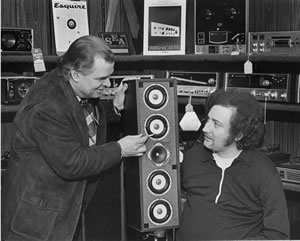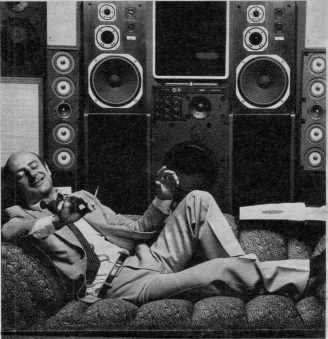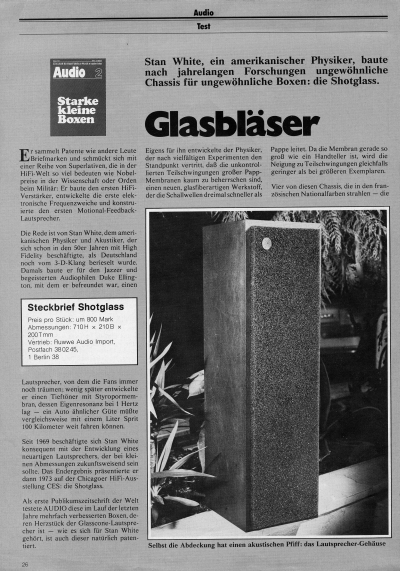 Payments & Returns
Payment Methods

Direct Payment (N/A)
Postage & Shipping
Item Location

Arizona, 86406, United States

Ships To

United States

Pick-ups

n/a

Shipping Instructions

-
Returns Accepted

No
Post Message
Sign in
to ask the seller a question.
---